Arbo'Magic, leisure park in Drôme
The former tree climbing course of Menglon became a great hike in the trees for everyone, 3 years old upwards. It's a marvelous course made of perched huts, net walkways, giant slides and a sea of nets.
Several themes are developed in the games and courses of our park, all made for children and families.
Discover our activities for the whole family :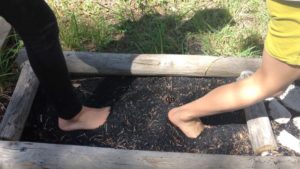 – the underground world
An unforgettable and unique experience! 5 rooms, connected by burried tunnels, will show you what happens under our feet.
All explanations are translated into English and Dutch as well as accompanied by drawings so everyone can understand them, parents and children.
The underground world is a course made for the whole family, children as well as parents. This course is unique in Drôme!
– net walkways and huts in the trees : with a theme course about the fauna and flora of the Vercors region.
The net walkways in the air connect 9 huts in the trees so yo can enjoy the canopy of the Saint-Ferréol forest. Once at the top, you can come back down by taking one of the three big slides.
– sea of nets : allows you to test your agility, to bounce in the nets and to lay down in the air.
– net cage : will you reach the last floor? Once at the top you'll be able to take a big slide to come back down.
– former tree climbing course : it allows you to test your balance and to take ziplines, even without harnesses.
---
Prices
Children between 3 and 17 : 12,5€
Adults : 6€ (one free entry for every 3 to 6 year old kid)
Family deal : 30€ (2 adults and 2 children OR 1 adult and 3 children, only during offseason)